Welcome to 2016

SkinMedica
(click image to enlarge)
Take the 2016 SkinMedica Bootcamp Challenge
It is a brand new beginning for us all. With the start of the New Year come resolutions for self-improvement. That includes our mind, body and soul. At Yorkville Institute of Plastic Surgery our goal is to help you reach your body and skincare goals. Hence we've created for you the SkinMedica Beauty Boot Camp.
Skincare items include:
2 TNS Essential Serums : All-in-one skin rejuvenating treatment improves the appearance of fine lines, wrinkles, skin tone and texture.
1 Lytera Skin Brightening Complex: Brightens dull skin and minimizes the appearance of skin discoloration and dark spots.
1 Retinol Complex 0.5%: Renews skin and diminishes the appearance of fine lines.
1 Facial Cleanser: For all skin types. Removes environmental pollutants, excess oil and makeup, hydrates and refreshes skin.
1 Dermal Repair Cream: Ultra rich moisturizer helps prevent moisture loss and improves skin smoothness to restore youthfulness.
This 90 day challenge includes one free chemical peel and one free laser genesis session.
Services and skincare are valued at $1,650.00; we are offering this Beauty Boot Camp to you for $859.00 (+HST)
Please contact the clinic and ask to speak with our medical aesthetician Candace for more information.
* Offer available while quantities last
Viver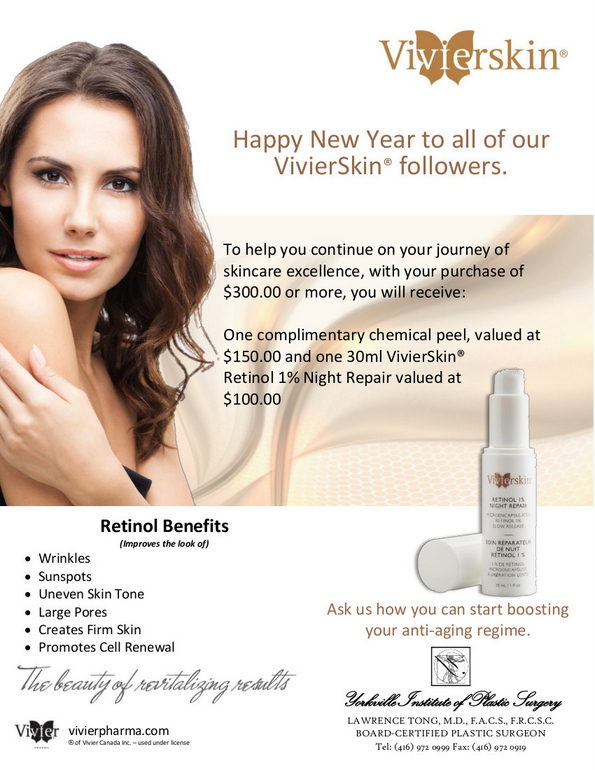 (click image to enlarge)
With any Vivier skincare purchase of $300 or more, recieve a complimentary Retinol 1% Night Repair Cream valued at $100
Retinal 1% Night Repair Cream Benefits:
Formulated to improve the appearance of aging skin
contains a unique combination of:
1% pure retinol which increases collagen and elastin production
Vitamin C: Essential to the production of Collagen
Vitamin E: Strengthens the skin's barrier function
Shea Butter: Helps to soften skin
Chemical Peel Benefits:
Formulated primarily for sensitive skin types.
Helps treat sun damage and other forms of hyperpigmentation.
Helps treat inflammation associated with mild to moderate rosacea
Helps treat mild to moderate acne
Improves texture and tone of skin
Helps lighten and brighten the skin
Helps with an overall skin rejuvenation
* Offer available while quantities last
For any questions please ask to speak with Candace, our medical aesthetician.
Want to receive Yorkville Institute of Plastic Surgery's Newsletter about Cosmetic Surgery, and our Special Offers via email?
Please fill out the form below to subscribe.