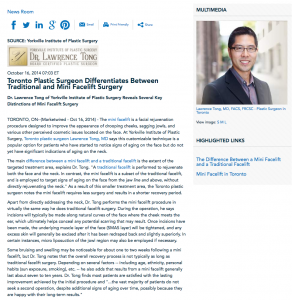 Dr. Lawrence Tong of Yorkville Institute of Plastic Surgery reveals several key distinctions of mini facelift surgery.
Toronto, Ontario — The mini facelift is a facial rejuvenation procedure designed to improve the appearance of drooping cheeks, sagging jowls, and various other perceived cosmetic issues located on the face. At Yorkville Institute of Plastic Surgery, Toronto plastic surgeon Lawrence Tong, MD says this customizable technique is a popular option for patients who have started to notice signs of aging on the face but do not yet have significant indications of aging on the neck.
The main difference between a mini facelift and a traditional facelift is the extent of the targeted treatment area, explains Dr. Tong. "A traditional facelift is performed to rejuvenate both the face and the neck. In contrast, the mini facelift is a subset of the traditional facelift, and is employed to target signs of aging on the face from the jaw line and above, without directly rejuvenating the neck." As a result of this smaller treatment area, the Toronto plastic surgeon notes the mini facelift requires less surgery and results in a shorter recovery period.
Apart from directly addressing the neck, Dr. Tong performs the mini facelift procedure in virtually the same way he does traditional facelift surgery. During the operation, he says incisions will typically be made along natural curves of the face where the cheek meets the ear, which ultimately helps conceal any potential scarring that may result. Once incisions have been made, the underlying muscle layer of the face (SMAS layer) will be tightened, and any excess skin will generally be excised after it has been redraped back and slightly superiorly. In certain instances, micro liposuction of the jowl region may also be employed if necessary.
Some bruising and swelling may be noticeable for about one to two weeks following a mini facelift, but Dr. Tong notes that the overall recovery process is not typically as long as traditional facelift surgery. Depending on several factors – including age, ethnicity, personal habits (sun exposure, smoking), etc. – he also adds that results from a mini facelift generally last about seven to ten years. Dr. Tong finds most patients are satisfied with the lasting improvement achieved by the initial procedure and "…the vast majority of patients do not seek a second operation, despite additional signs of aging over time, possibly because they are happy with their long-term results."
About Lawrence Tong, MD, FACS, FRCSC
Dr. Tong is a double Board-Certified plastic surgeon practicing in Toronto, Ontario. After earning his medical degree from the University of Toronto, he went on to complete his Plastic and Reconstructive Surgery training at the University of Michigan Medical Center. In addition to mini facelift and traditional facelift surgeries, Dr. Tong offers a comprehensive scope of cosmetic procedures ranging from breast augmentation and tummy tuck surgery, to blepharoplasty and brow lift surgery. He also offers an expansive variety of non-surgical treatments. Dr. Tong is available for interview upon request.
For more information about Dr. Tong, visit myplasticsurgerytoronto.com and plus.google.com/+LawrenceTongMD/about.
Contact:
Yorkville Institute of Plastic Surgery
199 Avenue Road
Toronto, Ontario
(416) 972-0999
Rosemont Media
(858) 200-0044
www.rosemontmedia.com
Previous Post
Next Post