Meet Our Esthetician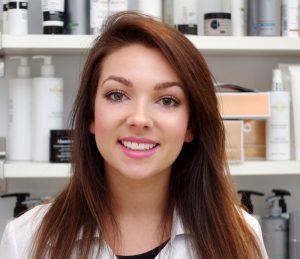 Kaitlyn Hoiles graduated from the Esthetician program at St. Lawrence College located in Kingston, Ontario and continued their award-winning reputation for being the best in Canada by winning the gold medal in the 2014 Provincial and National Skills Competitions. Excelling at these skills competitions enabled Kaitlyn to qualify to represent WorldSkills Team Canada in the Beauty Therapy category for international competitions in New Zealand and Brazil. Kaitlyn was awarded the silver medal in the 2015 WorldSkills Oceania competition in New Zealand and competed at WorldSkills Sao Paolo 2015. The WorldSkills competition is the biggest vocational education and skills excellence event in the world where competitors represent the best of their peers from across the globe.
Kaitlyn brings passion and strives for excellence with each consultation and service. She provides medical esthetic services such as IPL, microdermabrasion, light chemical peels and facials and can assist you with treatment options to best suit your needs. These procedures offer beauty enhancement alternatives with minimal or no downtime required. A proper skincare regimen is key in maintaining a youthful appearance and improving skin quality and our skin care specialist can provide daily skincare solutions especially suited to maximize results for you. Kaitlyn can provide consultation on the next generation of Coolsculpting® Technology as well to assist you in reaching your goals if you have excess fat in one or more areas capable of being pinched. Her knowledge, professionalism and skills in the field of esthetics has been showcased provincially, nationally and internationally providing the foundation for launching an outstanding career in this field. Contact our office to book your appointment with Kaitlyn and experience the art of beauty for yourself.
Med Spa Procedures Overview
'Look good and feel great without 'going under the knife'
Depending on their specific concerns, many women and men may not need—or even desire—a surgical procedure to achieve their cosmetic goals. At Yorkville Institute of Plastic Surgery, Lawrence Tong, MD provides a wide range of minimally invasive and non-invasive cosmetic treatments that can help patients improve their look and vitality without surgery or extensive downtime. From aesthetic injectables and dermal fillers to laser resurfacing, non-surgical fat reduction (CoolSculpting®), and pharmaceutical-grade skin care products, Dr. Tong is highly skilled in delivering top-quality care while maximizing both comfort and safety.
To learn about the non-surgical med spa treatments available at our practice, we encourage you to read the brief descriptions below and follow the links to each respective page. If you have questions about any of the procedures, or if you would like to schedule a consultation with Dr. Tong to determine the best option for you, please do not hesitate to contact Yorkville Institute of Plastic Surgery today.
BOTOX® Cosmetic
'BOTOX® injections performed by a Toronto Board-Certified Plastic Surgeon, Dr. Lawrence Tong'
Botulinum toxin is used to freeze muscles that cause wrinkle lines on the face, resulting in a smoother, younger, and refreshed appearance. This quick and easy procedure produces very effective and consistent results. This is one of the reasons why BOTOX® injections have become the #1 cosmetic procedure in the world. At Yorkville institute of Plastic Surgery, your BOTOX® Cosmetic procedure is personally performed by Toronto plastic surgeon Dr. Lawrence Tong.
Learn more about BOTOX® Cosmetic
Fillers and Collagen
'Soft tissue filler injections performed by Certified Plastic Surgeon Dr. Lawrence Tong'
Tissue fillers can help you look smoother, younger, and more refreshed. There are many commercial soft issues fillers available on the market, and Dr. Tong will help select the one that is best for your needs. Dr. Tong performs all injectable fillers personally to ensure the best quality and outcomes.
Learn more about Fillers and Collagen
Injectable Fillers Before and After Photos
Non Surgical Skin Resurfacing (IPL/Lasers/Peels)
'Treatments to refresh and rejuvenate your skin without surgery'
We offer a wide range of non-surgical skin rejuvenation treatments in our office including IPL (intense Pulsed Light), Laser Genesis, and chemical peels and Microdermabrasion.
Learn more about Non Surgical Skin Resurfacing
Pharmaceutical Grade Skin Care
'A good skin care regimen is key to restoring and maintaining your skin's natural glow and beauty, before and after any procedure'
In order to keep your skin looking the best it can be, a consistent routine of cleansing, rejuvenation and protection is important. Think of it as a maintenance program for your skin.
Learn more about Medical Grade Skin Care
Scar Removal, Cyst Removal, Mole Removal
'Dr. Tong can easily remove Scars, Moles, Cysts and other small growths for cosmetic purposes under local anesthetic'
Plastic surgeons are commonly called upon to remove small lesions of the skin, especially if they are in cosmetically sensitive areas. In almost all cases, small scars, moles and similar growths can be easily treated in the office without the need for major anesthetics. If you have something that you would like to have removed, learn more about Mole Removal, Scar removal and removal of growths.
CoolSculpting®
'Targeted Fat reduction without undergoing surgery or downtime'
Now you can selectively reduce problem fat areas without undergoing surgery. This non-invasive procedure utilizes targeted cooling to crystallize fat cells which are then eliminated by your body, creating a slimmer appearance. With CoolSculpting®, there is no need for anesthesia, no need for incisions or stitches, and no need to take time off of work to recover.
Learn more about CoolSculpting®
Learn more about CoolSculpting®