Dr. Lawrence Tong of Yorkville Institute of Plastic Surgery reveals why he believes hyaluronic acid-based injectable fillers continue to rank as one of the most popular cosmetic treatments year after year.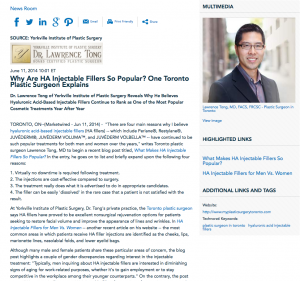 Toronto, ON — "There are four main reasons why I believe hyaluronic acid-based injectable fillers (HA fillers) – which include Perlane®, Restylane®, JUVÉDERM®, JUVÉDERM VOLUMA™, and JUVÉDERM VOLBELLA™ – have continued to be such popular treatments for both men and women over the years," writes Toronto plastic surgeon Lawrence Tong, MD to begin a recent blog post titled, What Makes HA Injectable Fillers So Popular? In the entry, he goes on to list and briefly expand upon the following four reasons:
Virtually no downtime is required following treatment.
The injections are cost-effective compared to surgery.
The treatment really does what it is advertised to do in appropriate candidates.
The filler can be easily 'dissolved' in the rare case that a patient is not satisfied with the result.
At Yorkville Institute of Plastic Surgery, Dr. Tong's private practice, the Toronto plastic surgeon says HA fillers have proved to be excellent nonsurgical rejuvenation options for patients seeking to restore facial volume and improve the appearance of lines and wrinkles. In HA Injectable Fillers for Men Vs. Women – another recent article on his website – the most common areas in which patients receive HA filler injections are identified as the cheeks, lips, marionette lines, nasolabial folds, and lower eyelid bags.
Although many male and female patients share these particular areas of concern, the blog post highlights a couple of gender discrepancies regarding interest in the injectable treatment: "Typically, men inquiring about HA injectable fillers are interested in diminishing signs of aging for work-related purposes, whether it's to gain employment or to stay competitive in the workplace among their younger counterparts." On the contrary, the post notes, "Women typically request HA injectable fillers for a variety of cosmetic reasons, as they are often more cognisant of facial aging and desire to maintain a youthful facial aesthetic for all intents and purposes."
Ultimately, regardless of why patients are interested in HA fillers, Dr. Tong stresses the importance of consulting a board-certified plastic surgeon for treatment. As hyaluronic acid-based fillers are not necessarily the ideal treatment for every patient seeking to restore volume and diminish lines and wrinkles, he says a physician board-certified in plastic surgery should have the knowledge and skill set necessary to determine candidacy and address the cosmetic concern through the most effective means possible.
About Lawrence Tong, MD, FACS, FRCSC
Dr. Tong graduated from the University of Western Ontario and earned his medical degree at the University of Toronto. He then went on to complete his Plastic and Reconstructive Surgery training at the University of Michigan Medical Center. Dr. Tong is board-certified by the American Board of Plastic Surgery and certified in Canada by the Royal College of Physician and Surgeons of Canada, making him one of few physicians to obtain dual-country board-certification. He is available for interview upon request.
For more information, visit myplasticsurgerytoronto.com and plus.google.com/+LawrenceTongMD/about.
Contact:
Yorkville Institute of Plastic Surgery
199 Avenue Road
Toronto, Ontario
(416) 972-0999
Rosemont Media
tom@rosemontmedia.com
(858) 200-0044
www.rosemontmedia.com
Previous Post
Next Post