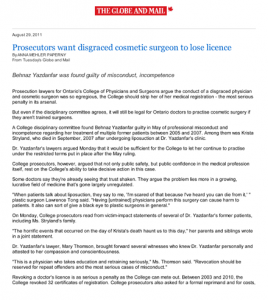 Read the full story.
Dr. Tong was quoted in the Globe and Mail making the argument that surgery should be performed by legitimately trained surgeons, and cosmetic surgery of the face, breast, and body should be performed by certified Plastic Surgeons.
The gold standard in accreditation for Plastic Surgeons is either: a Fellow of the Royal College of Physicians and Surgeons of Canada, OR a diplomate of the American Board of Plastic Surgery. Dr. Tong is certified by both of these respective Canadian and American Plastic Surgery certification bodies.
Previous Post
Next Post