U of T Training Program lets Patients Cut a Deal on Plastic Surgery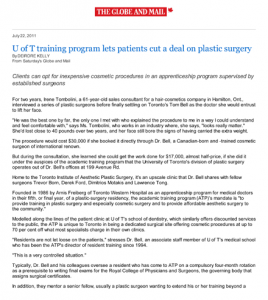 Read the full story.
Dr. Tong is involved with the training of Plastic Surgery Residents and Fellows from the University of Toronto. They come to train at 199 Avenue Road because it is known for its excellence in Cosmetic Surgery. A special program has been set up so patients can have procedures done at lower fee. The procedures are done entirely by the resident or fellow, however, every surgery is supervised by one of the staff members at 199 Avenue Road, which Dr. Tong is proud to be a part of.