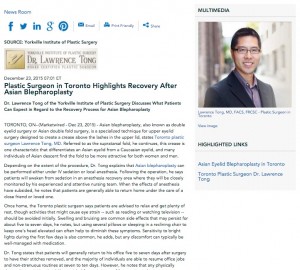 Dr. Lawrence Tong of the Yorkville Institute of Plastic Surgery discusses what patients can expect in regard to the recovery process for Asian blepharoplasty.
Toronto, ON — Asian blepharoplasty, also known as double eyelid surgery or Asian double fold surgery, is a specialized technique for upper eyelid surgery designed to create a crease above the lashes in the upper lid, states Toronto plastic surgeon Lawrence Tong, MD. Referred to as the supratarsal fold, he continues, this crease is one characteristic that differentiates an Asian eyelid from a Caucasian eyelid, and many individuals of Asian descent find the fold to be more attractive for both women and men.
Depending on the extent of the procedure, Dr. Tong explains that Asian blepharoplasty can be performed either under IV sedation or local anesthesia. Following the operation, he says patients will awaken from sedation in an anesthesia recovery area where they will be closely monitored by his experienced and attentive nursing team. When the effects of anesthesia have subsided, he notes that patients are generally able to return home under the care of a close friend or loved one.
Once home, the Toronto plastic surgeon says patients are advised to relax and get plenty of rest, though activities that might cause eye strain – such as reading or watching television – should be avoided initially. Swelling and bruising are common side effects that may persist for about five to seven days, he notes, but using several pillows or sleeping in a reclining chair to keep one's head elevated can often help to diminish these symptoms. Sensitivity to bright lights during the first few days is also common, he adds, but any discomfort can typically be well-managed with medication.
Dr. Tong states that patients will generally return to his office five to seven days after surgery to have their stitches removed, and the majority of individuals are able to resume office jobs and non-strenuous routines at seven to ten days. However, he notes that any physically demanding activities should be avoided for a minimum of four to six weeks. Long-term postoperative appointments thereafter are typically scheduled at the six-week, six-month, and one-year marks.
Ultimately, although they are relatively low in the hands of an experienced and qualified plastic surgeon, the Toronto plastic surgeon says there are potential risks and complications associated with the Asian blepharoplasty procedure. As a result, he stresses the importance of seeking a board certified plastic surgeon that not only has significant experience in this highly specialized procedure, but also offers a high level of personalized care throughout the entire recovery process in order to monitor healing and help ensure ideal results are achieved.
About Lawrence Tong, MD, FACS, FRCSC
After obtaining his medical degree from the University of Toronto, Dr. Tong continued his education by completing his training in Plastic and Reconstructive Surgery at the University of Michigan Medical Center. He is certified by both the Royal College of Physicians and Surgeons of Canada and the American Board of Plastic Surgery, and he remains an active member of such esteemed organizations as the American Society of Plastic Surgeons and the American Society for Aesthetic Plastic Surgery. At his Toronto-based practice, Dr. Tong offers an extensive range of surgical and non-surgical procedures spanning from facial rejuvenation and breast enhancement to body sculpting and skin care.
To learn more, visit myplasticsurgerytoronto.com and plus.google.com/+LawrenceTongMD/about. Dr. Tong is available for interview upon request.
Contact:
Yorkville Institute of Plastic Surgery
199 Avenue Road
Toronto, Ontario
(416) 972-0999
Rosemont Media
(858) 200-0044
www.rosemontmedia.com
Previous Post
Next Post