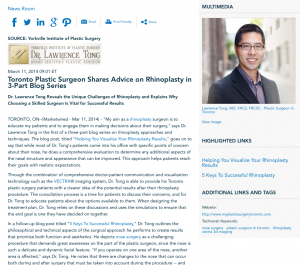 Dr. Lawrence Tong reveals the unique challenges of rhinoplasty and explains why choosing a skilled surgeon is vital for successful results.
Toronto, Ontario – "My aim as a rhinoplasty surgeon is to educate my patients and to engage them in making decisions about their surgery," says Dr. Lawrence Tong in the first of a three-part blog series on rhinoplasty approaches and techniques. The blog post, titled "Helping You Visualize Your Rhinoplasty Results," goes on to say that while most of Dr. Tong's patients come into his office with specific points of concern about their nose, he does a comprehensive evaluation to determine any additional aspects of the nasal structure and appearance that can be improved. This approach helps patients reach their goals with realistic expectations.
Through the combination of comprehensive doctor-patient communication and visualization technology such as the VECTRA® imaging system, Dr. Tong is able to provide his Toronto plastic surgery patients with a clearer idea of the potential results after their rhinoplasty procedure. The consultation process is a time for patients to discuss their concerns, and for Dr. Tong to educate patients about the options available to them. When designing the treatment plan, Dr. Tong relies on these discussions and uses the simulations to ensure that the end goal is one they have decided on together.
In a follow-up blog post titled "5 Keys To Successful Rhinoplasty," Dr. Tong outlines the philosophical and technical aspects of the surgical approach he performs to create results that prioritize both function and aesthetics. He depicts nose surgery as a challenging procedure that demands great awareness on the part of the plastic surgeon, since the nose is such a delicate and dynamic facial feature. "If you operate on one area of the nose, another area is affected," says Dr. Tong. He notes that there are changes to the nose that can occur both during and after surgery that must be taken into account during the procedure – and the ability to account for these possible changes is achieved through a combination of skill and experience.
In the final installment of the series, titled "An Experienced Hand: Ethnic Rhinoplasty," Dr. Tong writes about his history of working with patients from a variety of ethnic backgrounds, and the precision required to produce the best possible outcome based on the patient's goals. He says patients of Asian, African-American, or Middle-Eastern heritage have unique anatomic characteristics, and those who are considering rhinoplasty should undergo the procedure only from very experienced surgeons.
While he says it is not possible to make one's nose look exactly like someone else's nose (e.g. a favorite celebrity), the Toronto plastic surgeon says he can make aesthetic improvements on any nose as long as the patient retains realistic expectations regarding the outcome. "Rhinoplasty is the most challenging aesthetic procedure," says Dr. Tong, "and if you are considering the surgery, I encourage you to spend time researching the experience and past work of your surgeon. My advice is to make sure that you communicate your goals clearly, consider the recommendations, and be certain that you are comfortable with your prospective surgeon."
About Lawrence Tong, MD, FACS, FRCSC
Board-certified by the American Board of Plastic Surgery and certified by the Royal College of Physicians and Surgeons of Canada, Dr. Tong earned his medical degree from the University of Toronto. He completed his training in Plastic and Reconstructive surgery at the University of Michigan Medical Center, located in Ann Arbor. His practice, Yorkville Institute of Plastic Surgery, offers a full range of plastic surgery options for facial rejuvenation, breast enhancement, body contouring, and skin renewal, as well as a number of non-surgical cosmetic enhancement treatments. Dr. Tong is available for interview upon request.
Contact:
Yorkville Institute of Plastic Surgery
199 Avenue Road
Toronto, Ontario
(416) 972-0999
Rosemont Media
tom@rosemontmedia.com
(858) 200-0044
www.rosemontmedia.com
Previous Post
Next Post