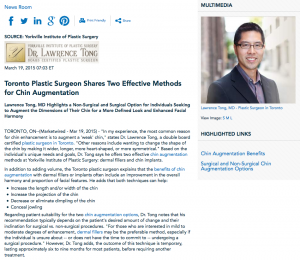 Lawrence Tong, MD highlights a non-surgical and surgical option for individuals seeking to augment the dimensions of their chin for a more defined look and enhanced facial harmony.
Toronto, Ontario — "In my experience, the most common reason for chin enhancement is to augment a 'weak' chin," states Dr. Lawrence Tong, a double board certified plastic surgeon in Toronto. "Other reasons include wanting to change the shape of the chin by making it wider, longer, more heart-shaped, or more symmetrical." Based on the individual's unique needs and goals, Dr. Tong says he offers two effective chin augmentation methods at Yorkville Institute of Plastic Surgery: dermal fillers and chin implants.
In addition to adding volume, the Toronto plastic surgeon explains that the benefits of chin augmentation with dermal fillers or implants often include an improvement in the overall harmony and proportion of facial features. He adds that both techniques can help:
Increase the length and/or width of the chin
Increase the projection of the chin
Decrease or eliminate dimpling of the chin
Conceal jowling
Regarding patient suitability for the two chin augmentation options, Dr. Tong notes that his recommendation typically depends on the patient's desired amount of change and their inclination for surgical vs. non-surgical procedures. "For those who are interested in mild to moderate degrees of enhancement, dermal fillers may be the preferable method, especially if the individual is unsure about – or does not have the time to commit to – undergoing a surgical procedure." However, Dr. Tong adds, the outcome of this technique is temporary, lasting approximately six to nine months for most patients, before requiring another treatment.
For a greater degree of enhancement and/or longer-lasting outcomes, a chin implant can often be a better option. "While fillers can only augment to a certain extent before they reach the physical limit of their properties, chin implants come in a variety of diverse dimensions to help achieve a more dramatic augmentation, a subtle enhancement, or anything in between," states Dr. Tong. Typically performed under sedation anesthesia, he indicates that the operation is relatively minor, and the majority of individuals are back to non-strenuous daily routines after about one week.
Dr. Tong states that the 'ideal chin size' is determined by examining a patient's facial proportions, but cultural influences and a patient's own aesthetic preferences also play a significant role. "Male patients generally prefer a stronger, more squared chin, while females usually opt for a slightly softer look. There is a strong affinity for Asian female patients to request a heart-shaped chin/jaw line, which is accomplished with a specific chin implant."
Ultimately, Dr. Tong says, "Chin augmentation with filler is a great alternative for someone who is not ready to have surgery, or someone who wants to have augmentation with no downtime. Should a patient be agreeable to surgery, chin augmentation with an implant can be a safe and simple method to attain long term improved facial balance and harmony. Although it is a small procedure, its effects can be dramatic."
About Lawrence Tong, MD
Dr. Tong earned his medical degree from the University of Toronto prior to completing his training in Plastic and Reconstructive Surgery at the esteemed University of Michigan Medical Center. Certified by both the Royal College of Physicians and Surgeons of Canada and the American Board of Plastic Surgery, he is one of few plastic surgeons in Canada who has obtained dual-country board certification with extensive practice experience in the United States. At Yorkville Institute of Plastic Surgery, Dr. Tong offers a comprehensive span of cosmetic procedures ranging from breast enhancement and body sculpting to facial rejuvenation and skin care. He is available for interview upon request.
For more information, visit myplasticsurgerytoronto.com and plus.google.com/+LawrenceTongMD/about.
Contact:
Yorkville Institute of Plastic Surgery
199 Avenue Road
Toronto, Ontario
(416) 972-0999
Rosemont Media
(858) 200-0044
www.rosemontmedia.com
Previous Post
Next Post