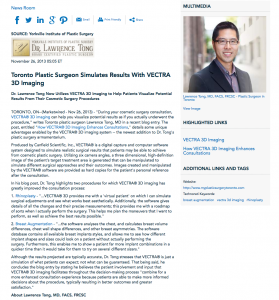 Dr. Lawrence Tong now utilizes VECTRA® 3D imaging to help patients visualize potential results from their cosmetic surgery procedures.
Toronto, Ontario — "During your cosmetic surgery consultation, VECTRA® 3D imaging can help you visualize potential results as if you actually underwent the procedure," writes Toronto plastic surgeon Lawrence Tong, MD in a recent blog entry. The post, entitled "How VECTRA® 3D Imaging Enhances Consultations," details some unique advantages enabled by the VECTRA® 3D imaging system – the newest addition to Dr. Tong's plastic surgery armamentarium.
Produced by Canfield Scientific, Inc., VECTRA® is a digital capture and computer software system designed to simulate realistic surgical results that patients may be able to achieve from cosmetic plastic surgery. Utilizing six camera angles, a three dimensional, high-definition image of the patient's target treatment area is generated that can be manipulated to simulate different surgical approaches and their outcomes. Images created and manipulated by the VECTRA® software are provided as hard copies for the patient's personal reference after the consultation.
In his blog post, Dr. Tong highlights two procedures for which VECTRA® 3D imaging has greatly improved the consultation process:
Rhinoplasty – "…VECTRA® 3D provides me with a 'virtual patient' on which I can simulate surgical adjustments and see what works best aesthetically. Additionally, the software gives details of all the changes and their precise measurements; this provides me with a roadmap of sorts when I actually perform the surgery. This helps me plan the maneuvers that I want to perform, as well as achieve the best results possible."
Breast Augmentation – "…the software analyses the chest, and calculates breast volume differences, chest wall shape differences, and other breast asymmetries. The software database contains all available breast implants styles, and allows me to see how different implant shapes and sizes could look on a patient without actually performing the surgery. Furthermore, this enables me to show a patient far more implant combinations in a quicker time than it would take for them to try on several different sizers."
Although the results projected are typically accurate, Dr. Tong stresses that VECTRA® is just a simulation of what patients can expect; not what can be guaranteed. That being said, he concludes the blog entry by stating he believes the patient involvement and input that VECTRA® 3D imaging facilitates throughout the decision-making process "combine for a more enhanced consultation experience because patients are able to make more informed decisions about the procedure, typically resulting in better outcomes and greater satisfaction."
About Lawrence Tong, MD, FACS, FRCSC
After attending undergraduate studies at the University of Western Ontario, Dr. Lawrence Tong earned his medical degree from the University of Toronto. He then went on to receive Plastic and Reconstructive surgery training at the University of Michigan Medical Center located in Ann Arbor. Dr. Tong is certified by both the American Board of Plastic Surgery and the Royal College of Physicians and Surgeons of Canada. He is available for interview upon request.
Contact:
Yorkville Institute of Plastic Surgery
199 Avenue Road
Toronto, Ontario
(416) 972-0999
Rosemont Media
tom@rosemontmedia.com
(858) 200-0044
www.rosemontmedia.com
Previous Post
Next Post