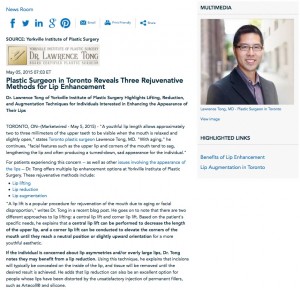 Dr. Lawrence Tong of Yorkville Institute of Plastic Surgery highlights lifting, reduction, and augmentation techniques for individuals interested in enhancing the appearance of their lips.
Toronto, ON — "A youthful lip length allows approximately two to three millimeters of the upper teeth to be visible when the mouth is relaxed and slightly open," states Toronto plastic surgeon Lawrence Tong, MD. "With aging," he continues, "facial features such as the upper lip and corners of the mouth tend to sag, lengthening the lip and often producing a turned-down, sad appearance for the individual."
For patients experiencing this concern – as well as other issues involving the appearance of the lips – Dr. Tong offers multiple lip enhancement options at Yorkville Institute of Plastic Surgery. These rejuvenative methods include:
"A lip lift is a popular procedure for rejuvenation of the mouth due to aging or facial disproportion," writes Dr. Tong in a recent blog post. He goes on to note that there are two different approaches to lip lifting: a central lip lift and corner lip lift. Based on the patient's specific needs, he explains that a central lip lift can be performed to decrease the length of the upper lip, and a corner lip lift can be conducted to elevate the corners of the mouth until they reach a neutral position or slightly upward orientation for a more youthful aesthetic.
If the individual is concerned about lip asymmetries and/or overly large lips, Dr. Tong notes they may benefit from a lip reduction. Using this technique, he explains that incisions will typically be concealed on the inside of the lip, and tissue will be removed until the desired result is achieved. He adds that lip reduction can also be an excellent option for people whose lips have been distorted by the unsatisfactory injection of permanent fillers, such as Artecoll® and silicone.
Lastly, should patients be interested in adding volume to their lips for a fuller, more defined look, Dr. Tong says lip augmentation may be an excellent option. This lip enhancement procedure can be performed either surgically or nonsurgically using fat injections or hyaluronic acid-based dermal fillers, respectively.
Ultimately, when considering lip enhancement of any sort, Dr. Tong stresses the importance of seeking a board certified plastic surgeon. By doing so, he says patients can be assured they are receiving the safest, most ethical and effective treatment for their unique needs and goals.
About Lawrence Tong, MD
After earning his medical degree from the University of Toronto, Dr. Tong moved to the United States to complete his Plastic and Reconstructive Surgery training at the renowned University of Michigan Medical Center. Following nine years of practice in the U.S., he returned to Canada and established the Yorkville Institute of Plastic Surgery, where he offers a comprehensive span of breast enhancement, body contouring, and facial rejuvenation procedures. Dr. Tong is certified by both the Royal College of Physicians and Surgeons of Canada and the American Board of Plastic Surgery, and he is dedicated to providing patients with an exceptional cosmetic surgery experience from consultation through recovery.
To learn more, visit myplasticsurgerytoronto.com and plus.google.com/+LawrenceTongMD/about. Dr. Tong is available for interview upon request.
Contact:
Yorkville Institute of Plastic Surgery
199 Avenue Road
Toronto, Ontario
(416) 972-0999
Rosemont Media
(858) 200-0044
www.rosemontmedia.com
Previous Post
Next Post