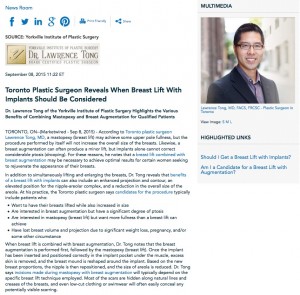 Dr. Lawrence Tong of the Yorkville Institute of Plastic Surgery highlights the various benefits of combining mastopexy and breast augmentation for qualified patients.
Toronto, ON — According to Toronto plastic surgeon Lawrence Tong, MD, a mastopexy (breast lift) may achieve some upper pole fullness, but the procedure performed by itself will not increase the overall size of the breasts. Likewise, a breast augmentation can often produce a minor lift, but implants alone cannot correct considerable ptosis (drooping). For these reasons, he notes that a breast lift combined with breast augmentation may be necessary to achieve optimal results for certain women seeking to rejuvenate the appearance of their breasts.
In addition to simultaneously lifting and enlarging the breasts, Dr. Tong reveals that benefits of a breast lift with implants can also include an enhanced projection and contour, an elevated position for the nipple-areolar complex, and a reduction in the overall size of the areola. At his practice, the Toronto plastic surgeon says candidates for the procedure typically include patients who:
Want to have their breasts lifted while also increased in size
Are interested in breast augmentation but have a significant degree of ptosis
Are interested in mastopexy (breast lift) but want more fullness than a breast lift can achieve
Have lost breast volume and projection due to significant weight loss, pregnancy, and/or some other circumstance
When breast lift is combined with breast augmentation, Dr. Tong notes that the breast augmentation is performed first, followed by the mastopexy (breast lift). Once the implant has been inserted and positioned correctly in the implant pocket under the muscle, excess skin is removed, and the breast mound is reshaped around the implant. Based on the new breast proportions, the nipple is then repositioned, and the size of areola is reduced. Dr. Tong says incisions made during mastopexy with breast augmentation will typically depend on the specific breast lift technique employed. Most of the scars are hidden along natural lines and creases of the breasts, and even low-cut clothing or swimwear will often easily conceal any potentially visible scarring.
Ultimately, for individuals considering breast enhancement of any sort, Dr. Tong stresses the importance of consulting a board certified plastic surgeon. By doing so, he says patients can ensure they will receive the safest, most effective treatment for their specific needs and goals.
About Lawrence Tong, MD, FACS, FRCSC
Dr. Tong earned his medical degree from the University of Toronto before completing his Plastic and Reconstructive Surgery training at the University of Michigan Medical Center. In addition to being certified by both the American Board of Plastic Surgery and the Royal College of Physician and Surgeons of Canada, he is an active member of the American Society for Aesthetic Plastic Surgery and the American Society of Plastic Surgeons. At the Yorkville Institute of Plastic Surgery, Dr. Tong offers an inclusive range of breast enhancement, facial rejuvenation, and body contouring procedures. He is available for interview upon request.
For more information, visit myplasticsurgerytoronto.com and plus.google.com/+LawrenceTongMD/about.
Contact:

Yorkville Institute of Plastic Surgery
199 Avenue Road
Toronto, Ontario
(416) 972-0999
Rosemont Media
(858) 200-0044
www.rosemontmedia.com
Previous Post
Next Post